It's time to work on our paleontologist skills and excavate some fossils! This sensory bin kept Rea engaged and excavating fossils for over 30 minutes. We are using our homemade fossils from our Making Fossils activity yet again, and because I always like to add a little literacy to sensory bins, I added magnet letters to a the mix.
Focus Skills
Reading
Can identify all capital letters and most sounds
Science
Use 5-senses to make observations
Dinosaur Letter Excavation Template - Creators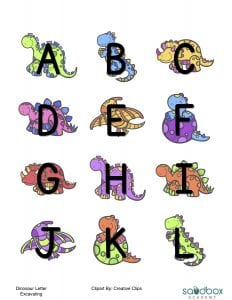 Purchase Template Here for $1
[woocommerce_one_page_checkout template="product-single" product_ids="27842″]
Teacher Tip
This activity can be messy. For this reason, I encourage you to do it outside or be prepared with your vacuum.